The MaxiFloat RX Pressure Reduction Mattress incorporates a unique, anatomically designed top layer that providers low pressure with a bottom layer that offers unmatched support and long term clinical efficacy.
The Hypolex® Top Cover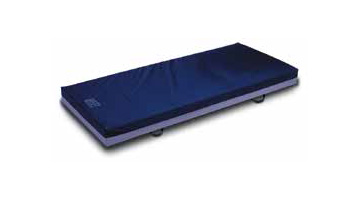 Pressure Management and therapy start with our exclusive Hypolex® Top Cover. Soft and billowy, this unique nylon cover is waterproof, anit-microbial and stain resistant. It also offers extremely low moisture vapour transmission rates (MVTR) to protect the inner core against incontinence. Flame retardant and long lasting, the low shear Hypolex® Top Cover is your patient's first line of defence against skin breakdown.
The Inner Foam Core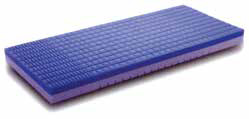 Consisting of a unique five-zoned support surface, the MaxiFloat RX provides low interface pressures by virtue of its anatomical design. By providing more surface area (and foam) under the torso, and the opposite in the head and foot ends, your at-risk patient can recline in unmatched comfort in a very low pressure environment. It can also be rotated head to foot for increased product longevity and enhanced clinical efficacy.
The System Dynamics
The more a support surface can evenly distribute a patient's weight the better it can provide low interface pressure readings. The MaxiFloat Rx achieves its low interface pressure readings because of its ability to address the changing dynamics of the human form.
The bottom layer of the MaxiFloat Rx consists of quality higher density foam that provides the necessary support and improved clinical longevity. The bottom layer also contains articulation channels to facilitate gatching of the bed.
The Bottom Cover
The bottom cover of the MaxiFloat RX consists of a durable vinyl material that is designed to last on any bed frame. It also comes equipped with double reinforced handles, a 360° zipper and patented Linen Lock™ Sheet Hold Down System.